At Refine Men's Salon in Scottsdale, our priority is making sure you leave each appointment looking and feeling your best. The first step in that process is a personal consultation, where your hair stylist will work with you to determine just what you want from your haircut and style.
One way to make sure you're both on the same page before the clippers come out is to learn a few common terms to help you define your perfect haircut. In our last article, we talked about a few common hairstyles for men, from the buzzcut to the fauxhawk. Today, in part two of our ongoing series, we'll be discussing a few more vocabulary words that can help you out during your next appointment. Read on to learn more, and contact Refine Men's Salon today to schedule your next cut!
About Clipper Guards
Most men's haircuts involve the use of clippers, which include quickly moving blades to cut the hair, and typically, a guard to cut the hair at a specific length. With clippers and a guard, your barber can quickly cut your hair to one length, which can be helpful whether you want a consistent buzzcut or you asked for a fade, which we will explain in more detail below.
The guard that determines the length of your hair is assigned a number — the lower the number, the shorter your hair will be! If you know what length you would like your hair to be, and your barber plans to use clippers, you can ask them to use a specific guard number.
Zero — no guard, mostly shaved with a little stubble
One — ⅛ of an inch
Two — ¼ of an inch
Three — ⅜ of an inch
Four — half of an inch
Five and six — ⅝ to 6/8 of an inch, no standard size
Seven and eight — ⅞ to one inch, hair can still be styled with gel
Your Guide to Fade Haircuts
One style often used when clippers are involved is a fade. With a fade, different sections of your hair will be clipped to different lengths and then blended together. Many men like to keep the hair on the top of their head long and fade the sides and/or back. The type of fade you ask for will determine where the blend between lengths begins as well as what length your haircut will be blended to.
Low Fade
A low fade means that the fade will begin about an inch above the ear. Your hair will be cut shortest at and below that point, and the longer hair above it will be blended down to whatever length you choose for the rest of your head. Typically, a low fade is also a drop fade, where the line blending the two lengths arcs around the ear and drops toward the midpoint of your neckline.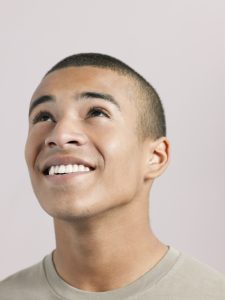 Mid Fade
A mid fade moves the line higher, with the shorter length beginning at a point about level with your eyebrows or temples. A mid fade is also often cut as a drop fade, but you can always ask for the blend to continue straight across the back of your head instead of down.
High Fade
A high fade means the fade begins higher on your head, several inches above your ears. A high fade is almost never cut as a drop fade, so the shorter guard on the clippers will be used levelly across the sides and back of your head.
Skin Fade
When you ask for a skin fade, you are asking your barber to taper your haircut down to the skin. So, whatever length you asked for on the top of your head, your hair stylist will blend it down until they are using a zero guard on the clippers. You can combine this type of fade with any of the varieties we mentioned above.
If you don't want a skin fade, you should talk to your barber about what length you want your fade to be blended to. Our guide to the different clipper guards above should help! Especially in a men's salon like Refine, you'll often hear stylists offer haircuts that blend a three to a two or a two to a one. Knowing what those numbers mean and what kind of fade you want can ensure that you get the exact haircut you desire.
Are you ready for your next haircut? Contact Refine Men's Salon today to experience attentive service and high-class styling. Not only will we do our best to make sure you leave with a haircut you love, but we'll also make every step of the process as relaxing as possible, with a scalp massage and hot towel treatment included with every cut. You can even upgrade to our VIP experience to receive a hot stone massage for your neck and shoulders. Invest in yourself and a haircut that will leave you feeling like a new man — call Refine Men's Salon in Scottsdale today to make your next appointment!